Mail Forwarding Service
A reliable mail forwarding service to your virtual registered office. Find out, how it works
Although most companies and institutions are transitioning from paper to electronic documents, you cannot avoid envelopes containing mail completely. What can you do if you have a virtual registered office and are not available at the company's address or the address of your business premises? We will take care of your letters for you!
We will collect your letter and notify you by e-mail
We regularly collect mail from all addresses of virtual registered offices and process it collectively at the office on Revoluční 763/15 in Prague 1 (including mail from headquarters in Brno). If we encounter your name or your company's name when sorting the mail, we scan the envelope or notice and send it to you by e-mail in pdf format. You receive notification of mail received to your virtual registered office free of charge.
Choose how we will process the mail
You can choose how we will handle each postal item. We process mail of two types: ordinary letters or notices to collect mail. We keep ordinary letters physically at our office (we take receipt of envelopes that are smaller than B4 format, or 25 × 35 cm). We only receive notification of collection for registered mail and the letter itself is kept at the Czech Post office that is assigned to the address of your registered office.
Ordinary letters
We collected an envelope from your mailbox and you decide what we should do with the content – click on one of the following options in the e-mail. If you fail to inform us what we should do with your mail within 60 days of receiving notification, we will automatically shred it.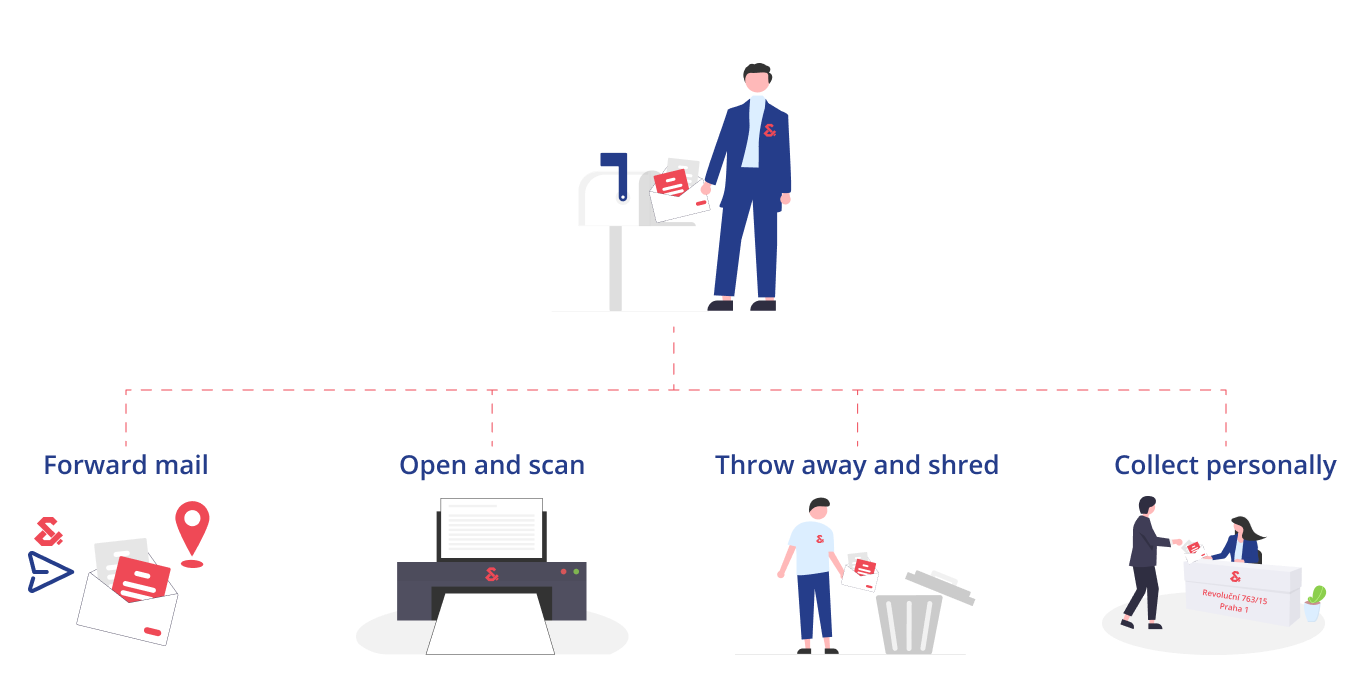 1

Forward mail via post (ordinary mail CZK 95*, or registered mail CZK 125*). We will send all correspondence that we have for your company to the selected address by registered mail.

2

Open and scan (CZK 50* / 1 file of up to 20 pages). We will open the envelope and scan all the pages and you will receive these by e-mail in pdf format.

3

Throw away and shred (CZK 0). Are you not interested in this mail? Let us know and we will dispose of it free of charge.

4

Collect personally at our office on Revoluční (CZK 0). You can come and collect the letter at Revoluční 763/15 (6th floor), Prague 1, on working days from 9 a.m. to 5 p.m. Stop by whenever you need to and someone will take care of you at reception.
*prices excluding 21% VAT
Registered letter and personal delivery
We found a notice asking you to collect your letter in the received mail. We scanned the notice and sent it to you by e-mail, then we archive it in electronic form. Unfortunately, the post office will not give us registered mail and mail for personal delivery, because this mail is intended only for you. What are the options in this case?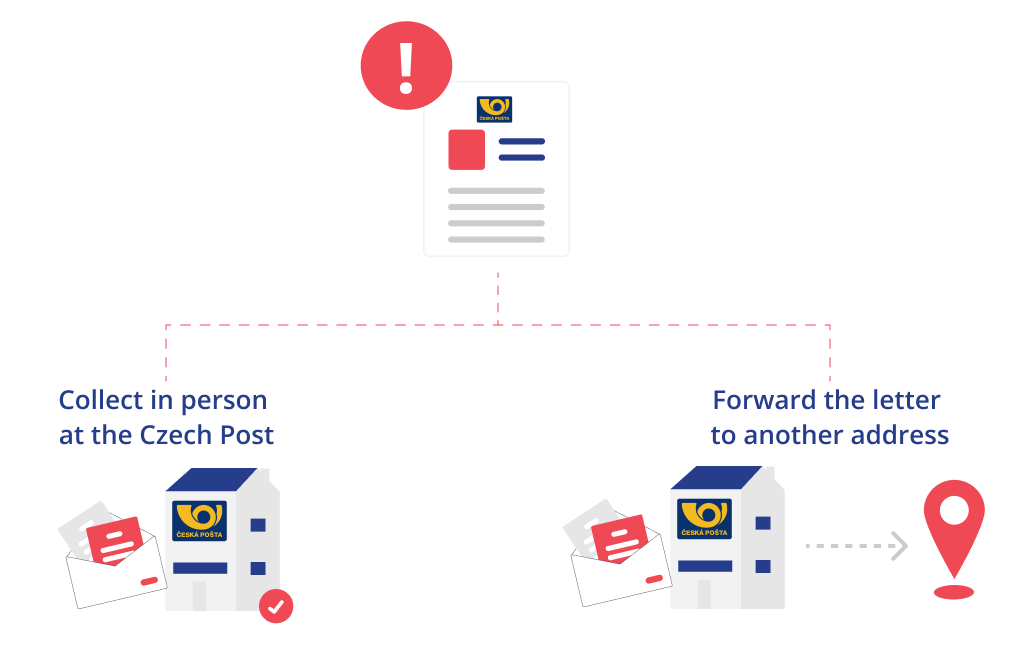 1

Collection of the letter at the Czech Post. You can collect the letter personally at the post office, which is assigned to your registered office (according to the table below). The clerks at the counter will give it to you on the basis of your identification document, you do not need the paper notice or the number of the letter.

2

Forward the letter to another address. You can arrange to have the letter forward through Czech Post's on-line portal, where you enter the number of the letter as it is given on the notice. The post office only offers this option for some letters - if forwarding cannot be arranged on-line, call the branch and arrange for the letter to be forwarded with a member of staff.
Information about Czech Post offices
We have prepared a summary of Czech Post office addresses, where the postman will leave your registered mail. Click on the link to go to the website, where you will find the opening hours of the specific post office, contact information, map, occupancy and other useful information.
Address of your virtual registered office
Address of the Czech Post office
and the website
Telephone number
Dlouhá 730/35, Prague 1
Rybná 682/14, Prague 5
+420 954 211 005
Revoluční 763/15, Prague 1
Rybná 682/14, Prague 5
+420 954 211 005
Lublaňská 267/12, Prague 2
Moravská 1530/9, Prague-Vinohrady
+420 954 212 000
Varšavská 715/36, Prague 2
Moravská 1530/9, Prague-Vinohrady
+420 954 212 000
Roháčova 145/14, Prague 3
Olšanská 38/9, Prague-Žižkov
+420 954 213 000
Nademlejnská 600/1, Prague 9
Br. Venclíků 1139/3, Prague-Černý Most
+420 954 219 800
Chudenická 1059/30, Prague 10
Švehlova 1391/32, Prague-Hostivař
+420 954 210 007
Příkop 4, Brno
Nádražní 681/2a, Brno-město
+420 954 260 200
Postal credit to pay for mail service
We use postal credit for processing mail so we don't bother you with invoices for a few crowns. We deduct the amounts for forwarding or scanning mail from this credit. The system is simple, CZK 1 = 1 Credit. The minimum amount you can purchase credit for is CZK 500 excluding VAT.
You can purchase credit either when establishing your virtual registered office or when you receive your first letter and want to have it forwarded or scanned (when you click on a paid service in the e-mail you will automatically receive an invoice for CZK 500).
If you decide to use this service regularly, we can naturally arrange for you to purchase a higher amount in credit.
We automatically send you a new invoice as soon as your credit falls below CZK 0. This means you don't have to monitor or verify that you have enough credit to pay for postal services, we do this for you.
Easily manage your mail online using the Client Portal
Our virtual registered office service includes access to the online portal, where you'll find the following:
an overview of your parcels and their status;

settings options of where, how, and to where we will forward your mail;

a database of scanned letters;

your current postal credit amount;

downloadable contracts and invoices.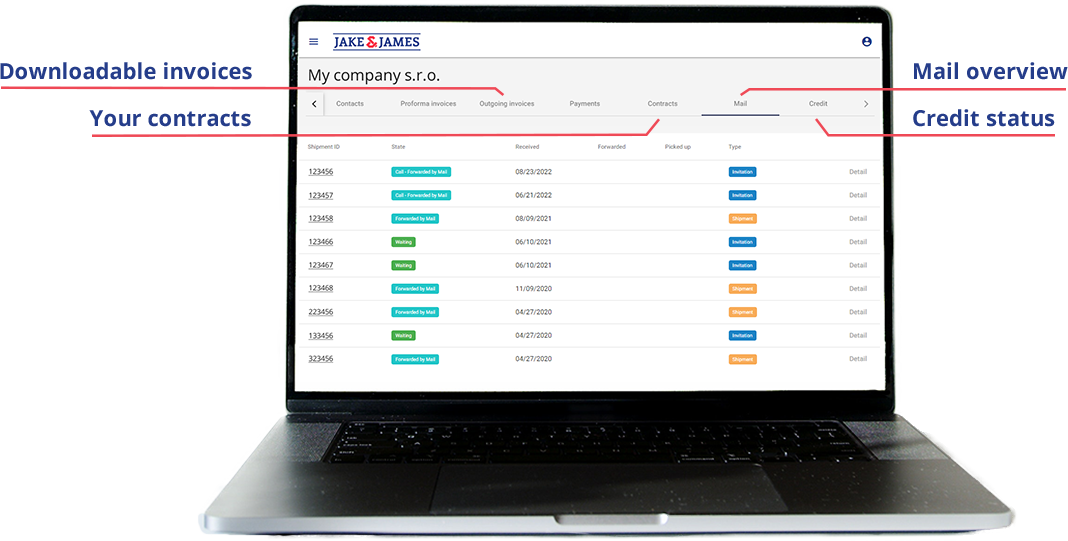 You will receive the registration link via email. If you have already registered, simply log in using the button below. The registration link is also available in our webpage header.
Are you interested in anything else? Write to us!
Do you have a question about how our postal services work? Don't hesitate to contact us, simply fill in the form and we will contact you.
Contact information
Write to us and we'll get back
to you within 24 hours.
Right numbers for your business
10 500+
Incorporated and sold companies
19 000+
Company registered seats rented
News from our blog
News
2 minutes
The Financial Administration informed about the launch of a pilot project for pre-filling the real estate tax…
News
3 minutes
As part of the consolidation of public finances, the government has introduced measures to help the over…
Tips and advice
5 minutes
The size of the entity determines what the company is legally required to do. A small newsagent has fewer…
Trade licenses
9 minutes
Are you starting a business and hesitating how to tax your income? In the Czech Republic, there are several…
News
4 minutes
In addition to tax changes, the consolidation package will also bring innovations in the area of accounting.…
News
2 minutes
The beginning of the school year brought not only the return of children to their classrooms, but also…
News
1 minute
International tensions are also reflected in the sphere of taxation. Businesses trading with Russia are now…
Tips and advice
4 minutes
Many drivers are attracted to working behind the wheel. As a courier, you're your own boss, and you can earn…
Tips and advice
6 minutes
You will be paid for the work you do. But sometimes there are those who refuse to pay their obligations - and…