Mail Forwarding Service
A reliable mail forwarding service to your virtual registered office
Although most companies and institutions are transitioning from paper to electronic documents, you cannot avoid envelopes containing mail completely. What can you do if you have a virtual registered office and are not available at the company's address or the address of your business premises? We will take care of your letters for you!
We will collect your letter and notify you by e-mail
We regularly collect mail from all addresses of virtual registered offices and process it collectively at the office on Revoluční 763/15 in Prague 1 (including mail from headquarters in Brno). If we encounter your name or your company's name when sorting the mail, we scan the envelope or notice and send it to you by e-mail in pdf format. You receive notification of mail received to your virtual registered office free of charge.
Choose how we will process the mail
You can choose how we will handle each postal item. We process mail of two types: ordinary letters or notices to collect mail. We keep ordinary letters physically at our office (we take receipt of envelopes that are smaller than B4 format, or 25 × 35 cm). We only receive notification of collection for registered mail and the letter itself is kept at the Czech Post office that is assigned to the address of your registered office.
Ordinary letters
We collected an envelope from your mailbox and you decide what we should do with the content – click on one of the following options in the e-mail. If you fail to inform us what we should do with your mail within 60 days of receiving notification, we will automatically shred it.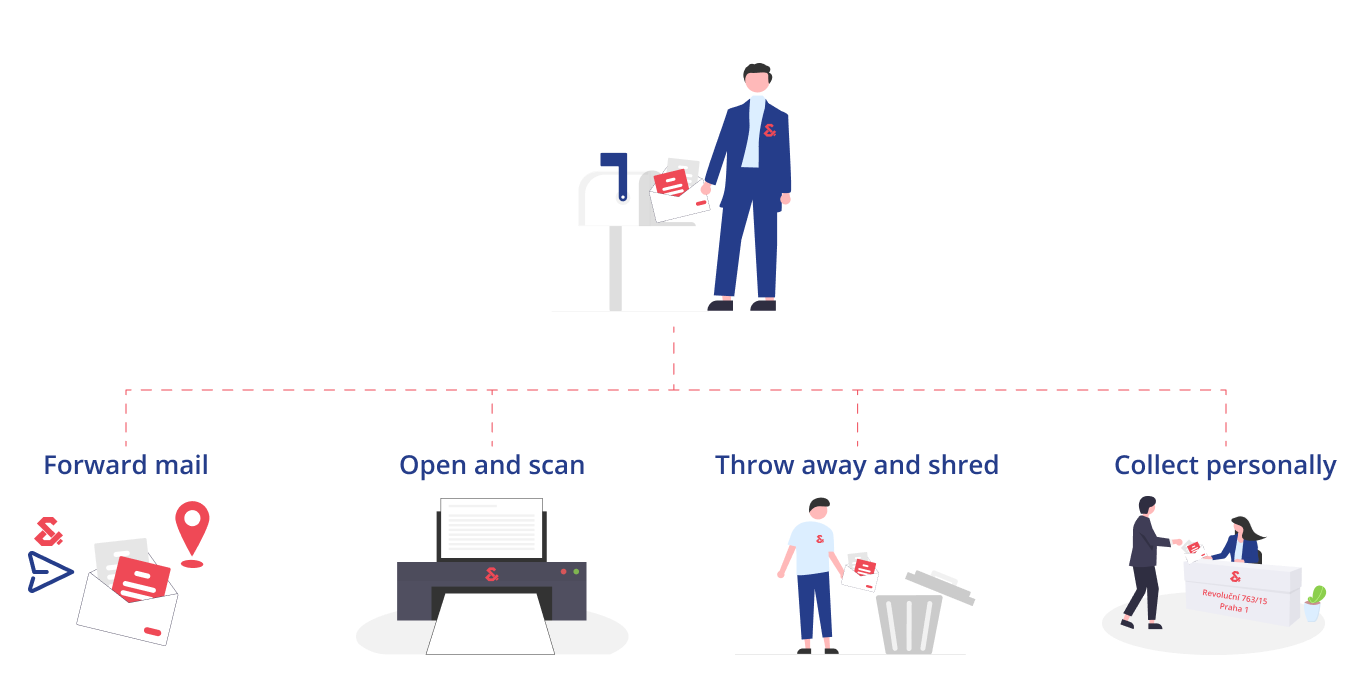 Registered letter and personal delivery
We found a notice asking you to collect your letter in the received mail. We scanned the notice and sent it to you by e-mail, then we archive it in electronic form. Unfortunately, the post office will not give us registered mail and mail for personal delivery, because this mail is intended only for you. What are the options in this case?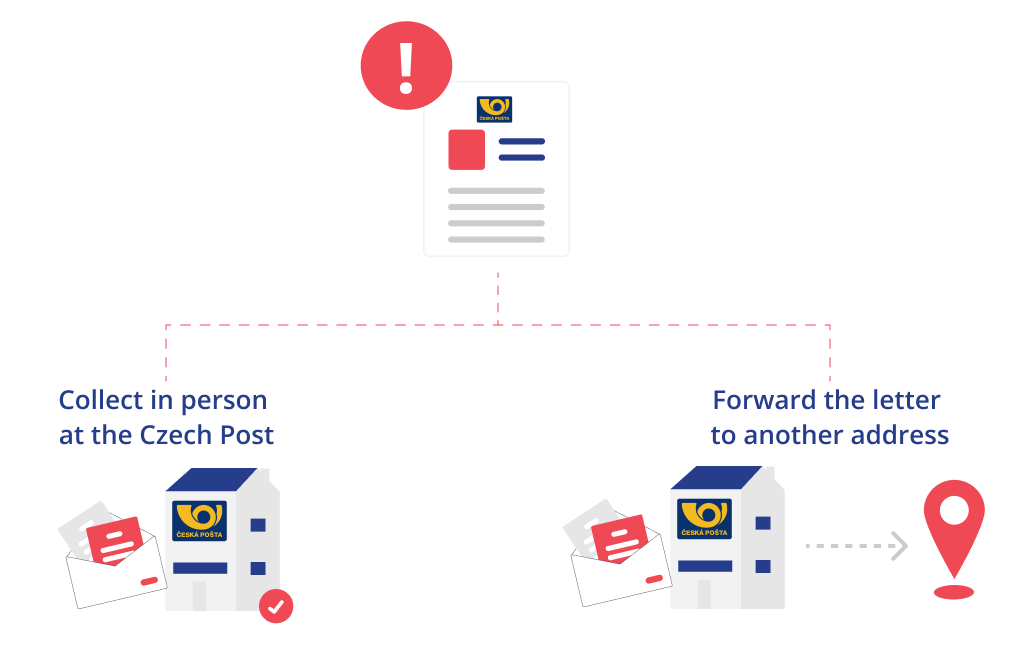 Information about Czech Post offices
We have prepared a summary of Czech Post office addresses, where the postman will leave your registered mail. Click on the link to go to the website, where you will find the opening hours of the specific post office, contact information, map, occupancy and other useful information.
You can comfortably pay for this service using postal credit
We use postal credit for processing mail so we don't bother you with invoices for a few crowns. We deduct the amounts for forwarding or scanning mail from this credit. The system is simple, CZK 1 = 1 Credit. The minimum amount you can purchase credit for is CZK 500 excluding VAT.
You can purchase credit either when establishing your virtual registered office or when you receive your first letter and want to have it forwarded or scanned (When you click on a paid service in the e-mail you will automatically receive an invoice for CZK 500).
If you decide to use this service regularly, we can naturally arrange for you to purchase a higher amount in credit.
We automatically send you a new invoice as soon as your credit falls below CZK 0. This means you don't have to monitor or verify that you have enough credit to pay for postal services, we do this for you.
Are you interested in anything else? Write to us!
Do you have a question about how our postal services work? Don't hesitate to contact us, simply fill in the form and we will contact you.
Right numbers for your business
10 500+
Incorporated and sold companies
19 000+
Company registered seats rented
News from our blog
Tips and advice
5 minutes
Tax returns are a nightmare for many entrepreneurs. You'll make a mistake or two when filling it out. That's…
Tips and advice
3 minutes
Do you file a tax return? Do you know how to do it? In practice, this obligation applies mainly to…
News
3 minutes
The due date for payment of the real estate tax is approaching - the deadline for payment of the tax (or the…
News
2 minutes
Communication via data mailbox saves time - for many businesses, using a data mailbox is even mandatory. Since…
Tips and advice
4 minutes
After the employees have started, you will be expected to handle payroll and regular contact with the…
After company formation
4 minutes
The business is growing, so you decide to hire reinforcements. However, with the first employee comes a fair…
News
3 minutes
No entrepreneur can avoid registering for value added tax (VAT) when sales are higher. The obligation to pay…
Tips and advice
8 minutes
Starting a business requires careful preparation. However, in order not to make an important step blindly, it…
Tips and advice
5 minutes
A business plan will give your idea of a new company a concrete form. It will help you not only in finding…