KEEPING ACCOUNTS IS A MUST,
let us do it for you!
What benefits do you get from our services?
We'll take care of all your legally stipulated tax and accounting requirements.

You won't need to employ an in-house accountant.

We have extensive know-how in both fields, you can rely on us.

You'll save on all the time and effort related to this necessary administration.

Our prices are always transparent and tailored to your specific needs.

You can reach us wherever you are.

We'll provide you with regular feedback on your tax and accounting processes.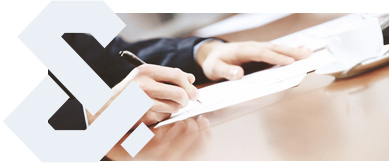 If you run a business, , you probably consider keeping the accounts a necessary evil. Employing an accountant is costly; even more so if you only need accounting services occasionally. In the Czech Republic, the words "bookkeeper" and "accountant" are synonyms for the same job –⁠ a person who takes care of all your taxes and accounting. Make use of the services our accountants offer and we'll take care of all your legally stipulated tax and accounting requirements. We have years of experience in providing tax and accounting services to our clients, you can rely on us. Our know-how and feedback are at your disposal. Save time, costs, and effort, and instead apply them where they're needed the most. Let us worry about your accounting, so you can focus on what really matters – your business.
Tax records

This service is suitable for small businesses – natural persons who have a yearly turnover of under EUR 590,000 and have not been registered in the Commercial Register.
The tax records kept by us are:
Always up-to-date when dealing with the Tax Office.

Compliant with all regulations.

We execute records of your assets, liabilities, cash book, etc.

We always select the right option for claiming expenses (flat x actual amount).
Products

Accounting services for startups
Don't know where to begin? We'll advise you right from the start.

Cloud accounting
Access your accounting anytime, anywhere.
EXTRA SERVICES YOU MAY FIND USEFUL

Tax advisory for natural and legal persons.

Creation of directives and internal regulations.

Reporting and tax-structure creation.

Representation when dealing with the authorities.
FILL OUT THE FORM BELOW AND WE'LL GET IN TOUCH!
Contact information
Write to us and we'll get back
to you within 24 hours.
Other services for your successful business
Numbers that show the right way
420+
Trust us with their bookkeeping
11 500+
Processed documents each month
News from our blog
Tips and advice
5 minutes
Running a business is a big responsibility. Therefore, not everyone can become the CEO of a company. What does…
Tips and advice
6 minutes
Are you starting a new company and don't know what to call it? And what is a company name? We will tell you…
News
2 minutes
After a year's break, we are once again facing the Summer of Grace - a state event aimed at debt relief for…
Tips and advice
3 minutes
Setting up a company involves administration that can take weeks. We will tell you how long it takes to set up…
Tips and advice
4 minutes
Common sense says that the company's headquarters is simply the place where you do business. Legally, it's not…
Ready-Made companies
3 minutes
The advantages of agency employment are used by many large companies. Sometimes even at the expense of the…
News
2 minutes
As part of the consolidation of public finances, the government has presented a package of measures to help…
After company formation
5 minutes
Are you considering starting a business or are you already at the beginning of your entrepreneurial journey?…
News
1 minute
If you file your tax return in paper form, even if you have a data box, you are liable to a penalty of CZK 1…